about barefoot
Barefoot Advertising Ltd. is an Alberta-based outdoor advertising company (commonly referred to as OOH or Out-of-Home Advertising). We call Sturgeon County home and our services extend beyond county lines in Lac La Biche, Onoway, Parkland County and in and around Edmonton!

After 25 years you'd expect a company to grow and nothing less can be expected of Barefoot Advertising! During 2018 acquired a fleet of trailer billboards and moving forward will secure other outdoor advertising locations and media! We have recently expanded our value proposition by including digital marketing with a local SEO platform designed to help local businesses get indexed by Google in a unique and proprietary way!

Need a design? We have in-house graphic designers to take your vision and brand to a 10' x 20' canvas for thousands of commuters and travellers to see day-in, day-out. At 100 km/hr we always recommend to follow the principle of "less is more'!

Our goal is to remove the stigma associated with billboard advertising as many feel they could never afford this media type.
We believe an advertising medium like billboards, with decades of history and proven success should not be limited to companies with deep pockets alone. Outdoor advertising is the perfect compliment to any company's digital marketing strategy so keeping it within reach just makes sense!

Relationships with our clients (past and present) have proved to be loyal and long-term in nature! Your opportunity is just a quote a way!

Jump in and get your feet wet! Go barefoot!

---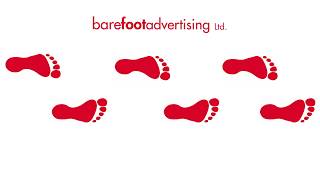 ---

Subscribe to our Newsletter to get the latest updates on advertising location availability!