jump in and get your feet wet!
why outdoor advertising?
(simply put...that's where people are!)
The reason for this, according to the National Household Survey, is that nearly an hour a day is spent commuting to work by the average Canadian! So why not use a billboard to drive them to your website, call you for a quote, or buy your products and services? In a typical week, Canadians spend about 35% of their time away from home, according to the Toronto-based Out-of-Home Marketing Association of Canada (OMAC). In the marketing and advertising industry we like to call that OPPORTUNITY!
According to surveys and statistics in recent years, Outdoor Advertising (or, as it's referred to in the industry, Out-of-Home (OOH) Advertising) as a medium is still thriving in Canada. Even in this digital marketing and advertising era, outdoor advertising proves to influence consumer behaviour.

One such survey conducted by TNS revealed that over 50% of Canadians over the age of 18 engaged in a call-to-action as a result of OOH Advertising including visiting an advertised website, researching the product or service advertised and visiting a bricks-and-mortar store. Another finding revealed that more than 1 in 10 of Canadians between the ages of 18-54 claimed to had used social media to share information seen on OOH ads.
Outdoor advertising reaches consumers 24/7 – during their daily commute, on their lunch break, to and from shopping, and en route to leisure activities and it is often the last message a consumer receives before making a buying decision. Outdoor is arguably the oldest form of advertising around and, far from diminishing; it's been enjoying significant growth and is forecasted continue that pace through to 2024. This is, in part, because of the challenges of fragmentation and the resultant reduced reach that many of the other media are experiencing such as print, radio and television ads.

---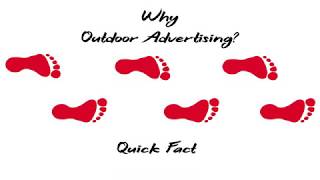 ---
why barefoot?
(quite frankly, your business deserves it!)
We strive to challenge the status quo and make this form of advertising affordable. We already know it's effective so why not get as many involved in growing their business through brand awareness?
---
is barefoot relevant?
With over 25 years in business within the Edmonton and Sturgeon County areas, you betcha we're relevant! We continue to expand our services and territories too! Isn't that what you'd expect from a relevant marketing and advertising agency?
---
partnerships
(we'll scratch your back if...)
Barefoot Advertising Ltd. is always interested in identifying and leasing new billboard sites, sub-leasing existing billboard sites or acquiring existing billboard sites. Land owners too can jump in and get their feet wet by offering up roadside sections of their property to host trailer billboards thus creating a revenue stream.
---

---

our clients: